LJUSKRONA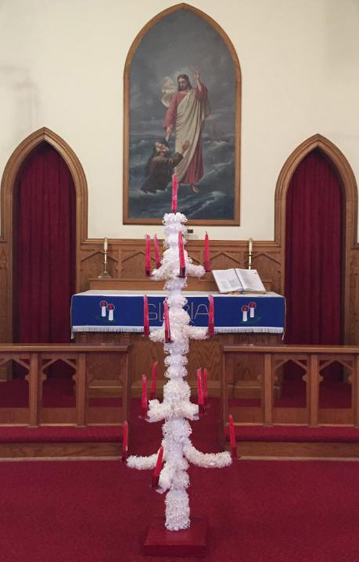 CHRISTMAS IN KANSAS
---
---
Your organization may lease the Ljuskrona Exhibition for 2018 Christmas season.
Call 816-753-1871 to talk about next year.
The exhibit was featured at Hyllningsfest Oct 9-10, 2015
a workshop followed with explanation on how to make one
or rewrap your own.
PART OF THE EXHIBIT
These Ljuskrona are owned by various families across the United States.
From the Tomtegubbe Gallery

LIGHTING CHRISTMAS FOR 150 YEARS

This was turned by Norman Malm, painted
with St. Lucia flying over Lindsborg, Kansas
by Lee Becker.

Rose bud and ship style candle holders by
M. Esping and wrapped by Stinamo the tomtegubba.

This one appears for Kalas in Kansas

From IOWA

This one is still hung in the same farm
house it has been in for years.

Ljuskrona from Finland
This is the workshop which
followed Hyllningsfest this year.


We found three others that
had not been photographed
before.

The Hyllningsfest Committee
paid the fees so it was free to
the participants.
---
| | | |
| --- | --- | --- |
| FROM A CHURCH ARCHIVE | | This one is a decorated chandelier which was purchased at IKEA. |
| | | |
"Ljuskrona Tree" four foot high from Colorado
Two Views of LJUSKRONA from the Bishop Hill
Heritage Association in BISHOP HILL, IL.
The Ljuskrona Project was started with a grant from the National Endowment for the Arts in 1988. A Ljuskrona is a paper wrapped candelabra used in Swedish-American homes during the Christmas season. They were made by immigrants to America and used in churches and private homes to add a bit of elegance to a barren prairie existence. They were a reminder of the Christmas celebrations immigrants had attended in Sweden. They also became a promise that next year would be better in the new home.

The project located over two hundred individual Ljuskrona that have been handed down through Swedish-American families. Oral interviews provided information about family gatherings to rewrap the candle holders, the custom of lighting the candles on Christmas eve and even the occasional candle holder that caught on fire. A lecture and slide show was funded by the Kansas Committee for the Humanities. An exhibit of eight Ljuskrona and ten photo panels is available.

If you have a Ljuskrona in your family traditions let us know so we may include you in our on going research.
E-Mail us ----swedes@folklifeinstitute.com


THE FOLKLIFE INSTITUTE HAS AN EXHIBITION OF LJUSKRONA PRODUCED UNDER THE NATIONAL ENDOWMENT FOR THE ARTS GRANT , WHICH YOUR ORGANIZATION MAY RENT. IT CONSISTS OF EIGHT DIFFERENT LJUSKRONAR AND TWELVE PHOTO PANELS THAT EXPLAIN THE TRADITIONS AND CUSTOMS BEHIND THIS FASCINATING OBJECT. WE WILL ALSO PROVIDE A SLIDE SHOW AND LECTURE ABOUT THE LJUSKRONA FOUND IN SWEDISH MUSEUMS. THE LECTURER WILL HELP YOUR GROUP MAKE SEVERAL DIFFERENT TYPES OF LJUSKRONAR FOR THEIR OWN FAMILY CHRISTMAS USE.

LJUSKRONA WORKSHOP

THE LJUSKRONA EXHIBIT WAS IN LINDSBORG FOR HYLLNINGSFEST OCT. 9TH AND OCT.10 2015. THE EXHIBIT STAYED IN LINDSBORG FOR NOV. THRU DEC.
The workshop to build your own ljuskrona was a lot of fun and well attended
The workshop was free the fees were paid by the HyllningsFest Committee.

Your organization may lease the Ljuskrona Exhibition for 2018 Christmas season.
Call 816-753-1871 to talk about next year

THE LJUSKRONA EXHIBIT WAS AT
GAMMELLGARDEN MUSEUM COMPLEX AT
SCANDIA, MINNESOTA
in 2013
BACK TO FOLKARTS PAGE